Blog
Buy Now From Anywhere – XTM and FARFETCH present smart localization strategies for online retail at E-Commerce Berlin Expo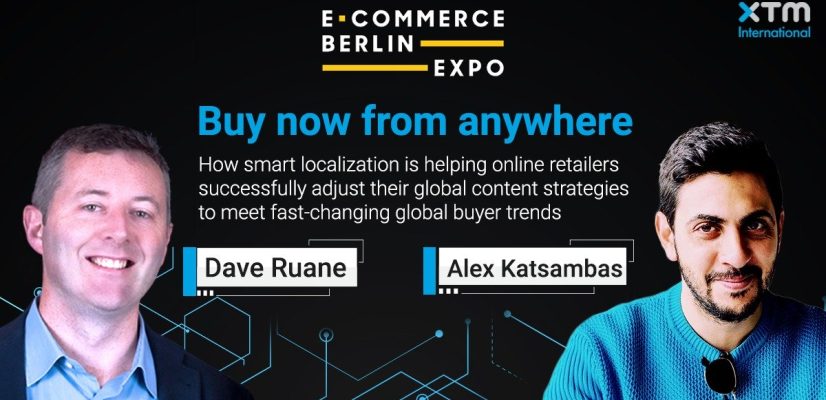 E-commerce Berlin Expo is the leading event for key players in the e-commerce industry, and at XTM we didn't want to miss such a great opportunity to be part of it.
This year, not only did we have our own booth where we had a fantastic time chatting with attendees eager to learn more about localization technology, but we also had the opportunity to speak on stage, as Dave Ruane (Director of Marketing at XTM) and Alex Katsambas (Senior Head of Localization Services at FARFETCH) presented Buy now from anywhere – How smart localization is helping online retailers successfully adjust their global content strategies to meet fast-changing global buyer trends.
If you didn't attend the event and missed their discussion, here is a summary of what you missed.
Shifting to the new normal
Global buyer trends have changed considerably since the start of the decade, with buying habits in certain countries reverting back to what they were pre-pandemic, while others remain, evolve, and are here to stay. For example, some countries like France still prefer the in-store experience, while others, including Finland and many Eastern European ones, have transitioned to mostly shopping online, and even the hybrid buying journey is being cultivated in some markets like Spain.
Furthermore, as much as 75% of global consumers have tried new shopping behaviors in the past two years. These changes in buying trends across global markets mean that e-commerce companies need to create or adapt their global content at much higher speeds in order to reach their global audiences more quickly and successfully.
The astronomic rise of online shopping was undoubtedly a result of COVID-imposed lockdowns. People could no longer shop in-store so instead they bought their items online. However, once the pandemic-related restrictions started to be lifted in some countries, this buying behavior stuck with many customers who enjoyed their online shopping experience if their local environment enabled it.
Let's illustrate this with an example. Sam is a fashion fan. They like nice clothes, and during COVID could no longer buy them in person, so they discovered a luxury brand retail store online and bought themselves some new treats every month. This was an unusual way of buying luxury fashion items, as Sam had never really bought luxury fashion before or had easy access to them. But now, this new online platform gave Sam easy access to luxury brands and a personalized shopping experience that spoke to them directly, which resulted in regular purchases as it spoke directly to their wishes.
This buying habit became ingrained in their everyday life, and after COVID they still wanted to buy some more of these luxury items, but these were not sold in the stores they usually went to. So Sam continued to buy online. Up to here, it's nothing particularly noteworthy. What we didn't mention was that Sam lives in Romania, a market with very little physical presence for luxury brands. This makes Sam part of a latent market which offers new growth opportunities that can be tapped by companies who have the right technology in place
A flash in the pan or here to stay?
Have these fast customer shifts been fleeting? Well, let's look at the numbers to find out. McKinsey did a great bit of research on how COVID-19 has pushed companies over the technology tipping point—and transformed business forever. In the graph below, you can see many regional variants. Focus on the global trend of adoption accelerating from 36% in December 2019 to 58% in July 2020. COVID accelerated the digitization of customer interactions in just seven months.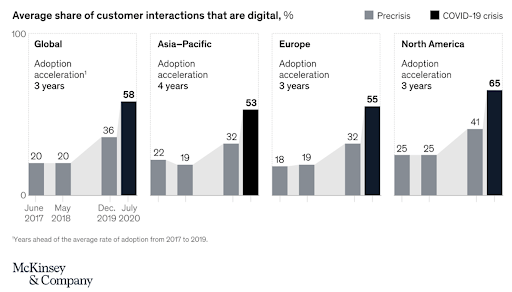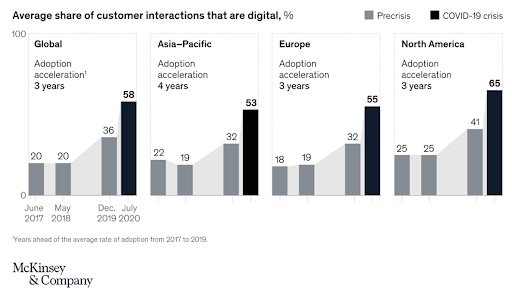 It is inevitable that some of these numbers will eventually regress, but there is no doubt that some of these new customer behaviors, needs and expectations will stick for good — something which has not gone unnoticed among fashion brands around the world (see graphic below).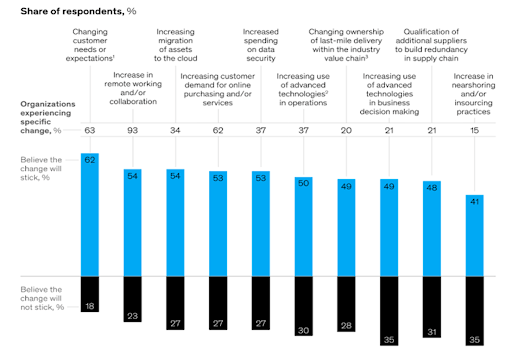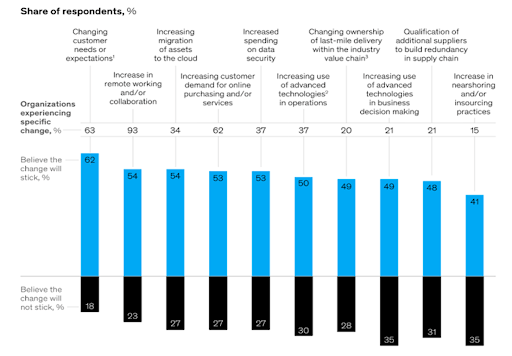 How can I manage sudden, unexpected changes in customer behavior?
So, the question inevitably arises: How do we adjust to these new buyer trends, and manage and deliver to our customers' needs in all these new markets? The answer is to deploy a smart localization strategy underpinned by scalable technology. During the pandemic, executives' mindsets on technology's strategic importance changed radically (see image below). They joined the technology bandwagon on a global scale and now see a shift to technology as a way of adjusting to these new buyer shifts, which included:
Post-pandemic transition from need-buying to indulgence-spending

Irruption of brand disloyalty due to wider availability

Tyranny of choice versus best global experience
All of these factors accelerated digitization globally by a handful of years, albeit not in all markets. For this reason, online retailers could not apply a one-size-fits-all approach to their new reality but rather a tailored approach to each market. Let's take a look at the graphic below: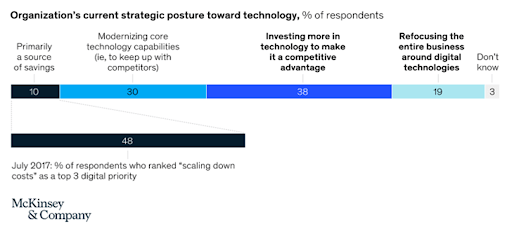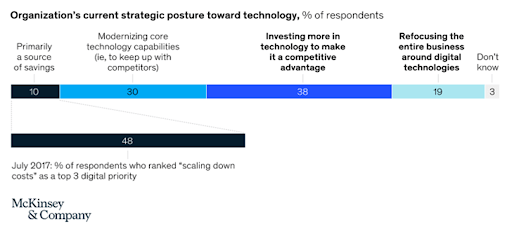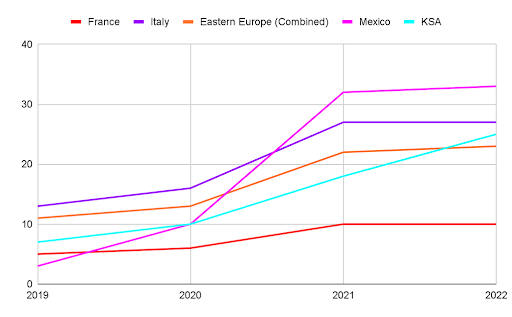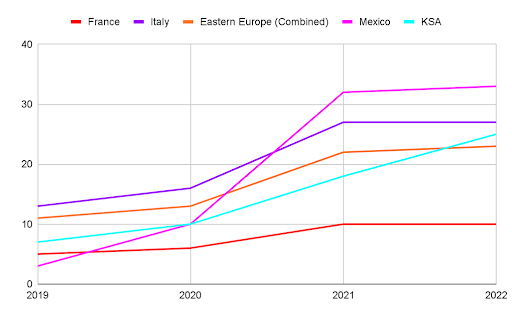 Before the COVID pandemic, most markets matched each other in terms of digital space in regard to luxury retail, but after COVID they went off in different directions. For example, France is one of the largest luxury markets in the world, and its acceleration almost doubled between 2019 and 2022, but if we look at Mexico, its acceleration grew approximately tenfold within that period, with a fast rise in particular between 2020 and 2021. On the other hand, Saudi Arabia also experienced considerable acceleration but its growth was much steadier. This is precisely why you need to have a different approach for each market, because no two markets are the same or grow in the same way.
So, where does localization come into this?
Well, one thing we've discovered is that English is no longer the predominant online language. These days, global customers expect online content in their preferred language and quickly navigate away from websites and brands that fail to provide it. With 5 billion online users in total, even a small percentage of users can mean a significant opportunity.
If you want to expand your market presence, there are a few steps that you need to take first:
1. Do market research and go deep
We accept that most consumers globally are familiar with online shopping, but just because some do it, doesn't mean everyone does. You need to understand where your online penetration is harder or easier, as well as your audience's behaviors — what they like and what they dislike.
2. Implement foundational localization practices
Localizing your online experience is vital if you are to tap into foreign markets. A localized experience enables you to make genuine, authentic connections with your global audience. For example, 40% of consumers indicate that they would not buy from an English-only website, and 44% of people in the European Union say they don't quite trust websites that aren't in their native language, as they fear they'll miss important information.
Localized content makes for easier interaction, enables brand building, and allows for easier customer segmentation.
3. Cluster markets for growth strategies and focus
You need to analyze and understand the direction you want to go in each market: do you want to expand, consolidate, or scale down?
To understand this, it's important to work with your data-analytics teams to validate where the potential is. Focus more on your physical offering if the market is reluctant to digitize fully, and give great online experiences to markets that interact well online.
Okay, localization is key, but what do I do now?
Now that we've explained the theory, it's time to put it into practice.
In order to have a successful localization program, you need to power it with the right localization technology, and the smartest choice in this case is deploying a translation management system (TMS).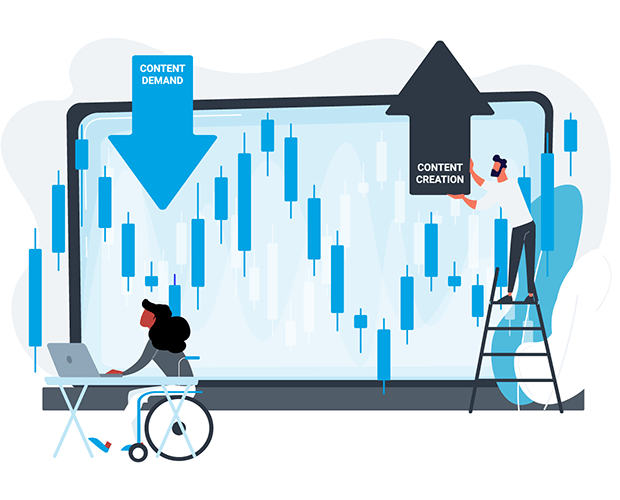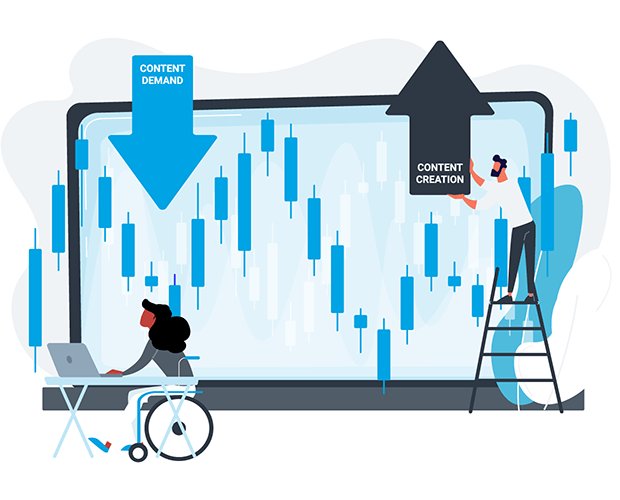 A TMS becomes the center of all localization activity. By working on a centralized platform, linguists can reuse content that has been previously translated, leverage glossaries, and have access to preferred and approved terminology. Glossaries, translation memories, and AI-powered machine translation are key TMS features that enable the localization of content at scale. Furthermore, a TMS also increases transparency and support for project coordinators, helping them manage all projects for all languages on a single tool and making the process much more efficient overall.
It also enables automatic workflows, which can grow infinitely and enable the localized content to receive an individualized approach that meets its requirements. Centralizing all localization operations results in increased output quality as a result of terminology and brand-tone consistency. It also drives cost-efficiency in specific content areas, which allows companies that deploy this technology to do more with less and allocate the spare funds initially budgeted for this task elsewhere.
So, what are the other tangible benefits of deploying smart localization?
By publishing a consistent message of high quality in all languages and maintaining the same brand tone, consumers can have an identical physical and online experience (given all the technology we have at our disposal). Local physical spaces are always customized to a particular market, so online spaces must be personalized as well. For example, a Winter collection in the UK and Australia cannot be released at the same time, otherwise one of the countries would see advertising for beachwear in winter!
By customizing (or localizing) each market's experience, it enabled companies to hold on to their newly found audience after COVID. However, it's not about localizing every single bit of content — some markets do prefer certain types of content to be left in the original language (some don't), so leverage your market data and make smart decisions for each market that can have a positive impact on your brand.
The new normal
All in all, buyer trends have stuck after COVID. In order to meet new customer demands, evolving your company's tech stack is essential if you want to build out content and experiences that enable you to take advantage of newly found opportunities in latent markets and successfully land in them.
Having a TMS as a key part of your localization tech stack, together with all your content repositories to which it is connected to, has become a basic need to enable higher quality and cost efficiency.
Thanks to a smart localization strategy, consumers can now buy from anywhere, and require an engaging experience that they can also trust. By applying this method, you'll be ready to plug in to markets and scale at speed if your corporate decision-makers decide to expand into these latent markets.
If you'd like to learn more about empowering your localization program with best-in-class technology, driving up your presence in global markets, and successfully adjusting your global content strategy to meet fast-changing buyer trends, get in touch with us — we'll be delighted to help!