Author
Melissa Favre-Lorraine
Connectivity improvements are entering a continuous deployment cycle.
We have made our connector releases independent of the main XTM Cloud releases. This enables our connector users to take advantage of advances to connectors more quickly.
Product Manager Sara Basile explains why she believes this decision will be welcomed by XTM's users:
"We wanted to provide our customers with a constant stream of new features and improvements, independent from our quarterly software releases. The choice to make our connectors enter a continuous deployment cycle was easy. This means our customers can avail of new functionality in the connectors earlier and on a more regular cadence during the year, always ensuring full compatibility with your latest XTM Cloud version."
All of our recent connector improvements are about optimizing localization time and costs, from ensuring that only relevant content from Episerver gets sent for translation, to introducing custom tags filters in Contentful to keep better track of localization projects.
Read on to find out what the latest improvements to Episerver (now Optimizely), Kontent by Kentico, Contentful and HubSpot can do for you.
Optimizely (previously Episerver)
Edit files more effectively with Visual mode
It's a lot easier to edit and translate files in context. Now, files created in Optimizely can be translated in XTM Workbench using the Visual mode. Being able to see and translate segments in context enables linguists to feel more confident in their work as they can visualize the target files straight from the interface. This also guarantees that there's no surprises when it comes to layout, which would require additional work.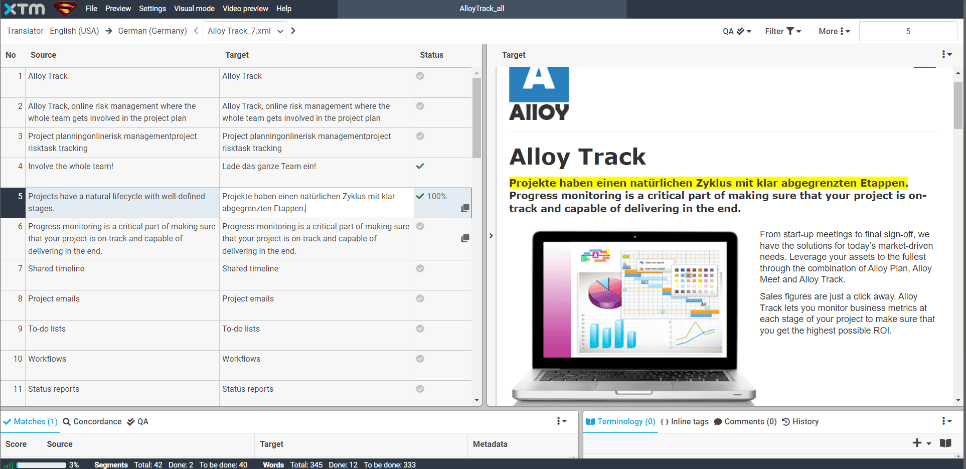 Translate only relevant content
It is now possible to select specific blocks when sending projects for translation, ensuring that only required content is part of the localization project, as opposed to the entire page. This ensures users can search for and define which specific parts or blocks should be included or excluded in the translation project, optimizing time and costs.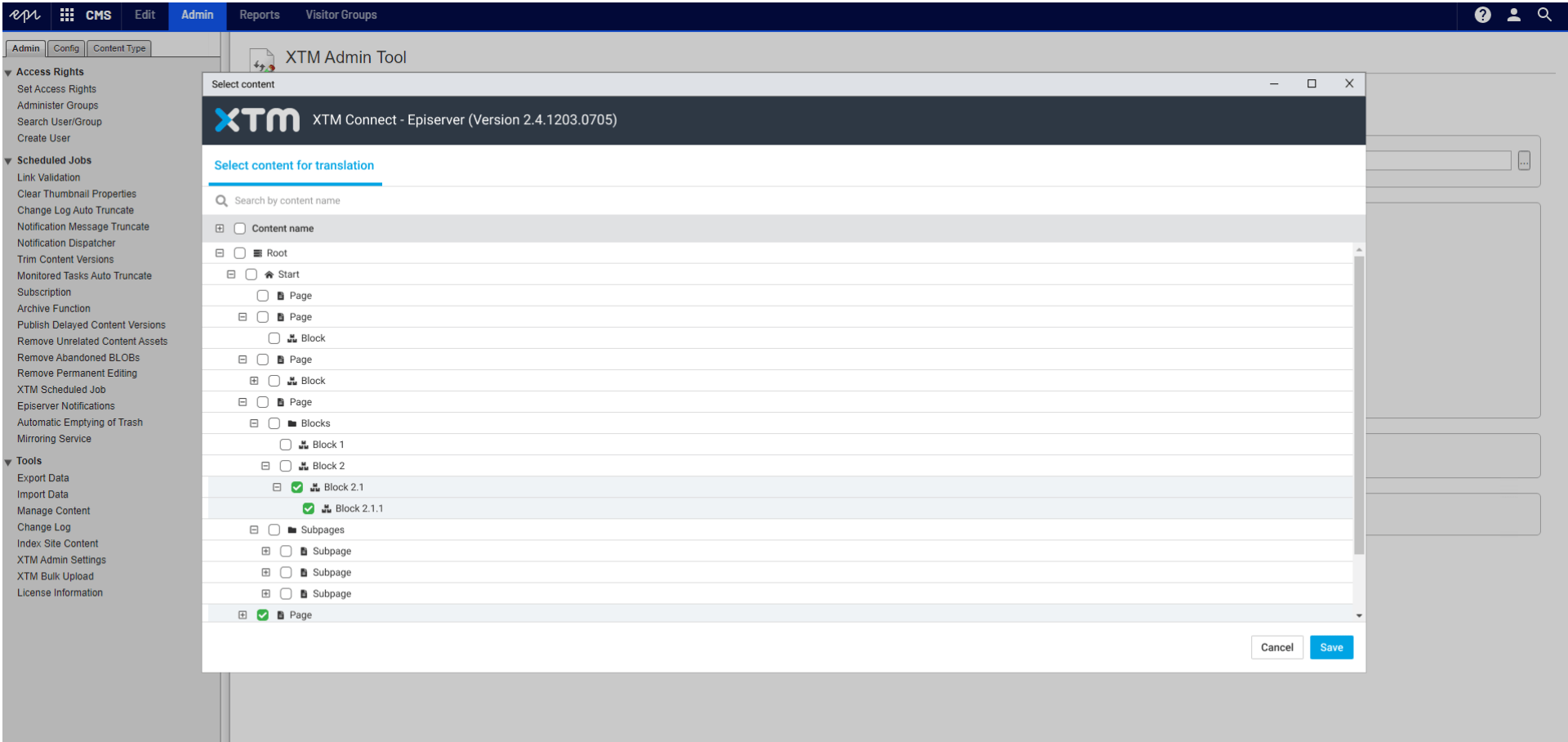 These two features combined create a seamless experience for Optimizely users. For instance, when an online shop releases a new product and updates parts of its homepage to promote it, project managers can quickly select these new items only, and send them for translation. Linguists will be able to see the project in context, ensuring that they choose sentences that fit the existing design best. This limits back-and-forth between linguists and design teams and optimizes time and costs.
Kontent by Kentico
Kentico projects can now leverage the XTM Cloud file joining option when content is sent off to translation. All you need to do is to enable the file joining option at project template level and ensure that the Kentico project leverages that template. This enables XTM Cloud project managers to handle smaller files coming separately from the CMS more efficiently.
Contentful
When adding content to translation, translation requesters can now quickly find and filter content using standard and custom tags created in Contentful. This enables users to easily find content using tags that make sense to them. Besides providing additional attributes to specific content items, custom tags could for instance be used to track progress, and to be able to quickly visualize a page status: is it done in a specific language, ready for the linguist, has it been sent for translation already? This way, a translation requester could easily look for translations sent on a specific date, for a specific language combination, or with a specific status, providing a quick and easy way to track localization projects.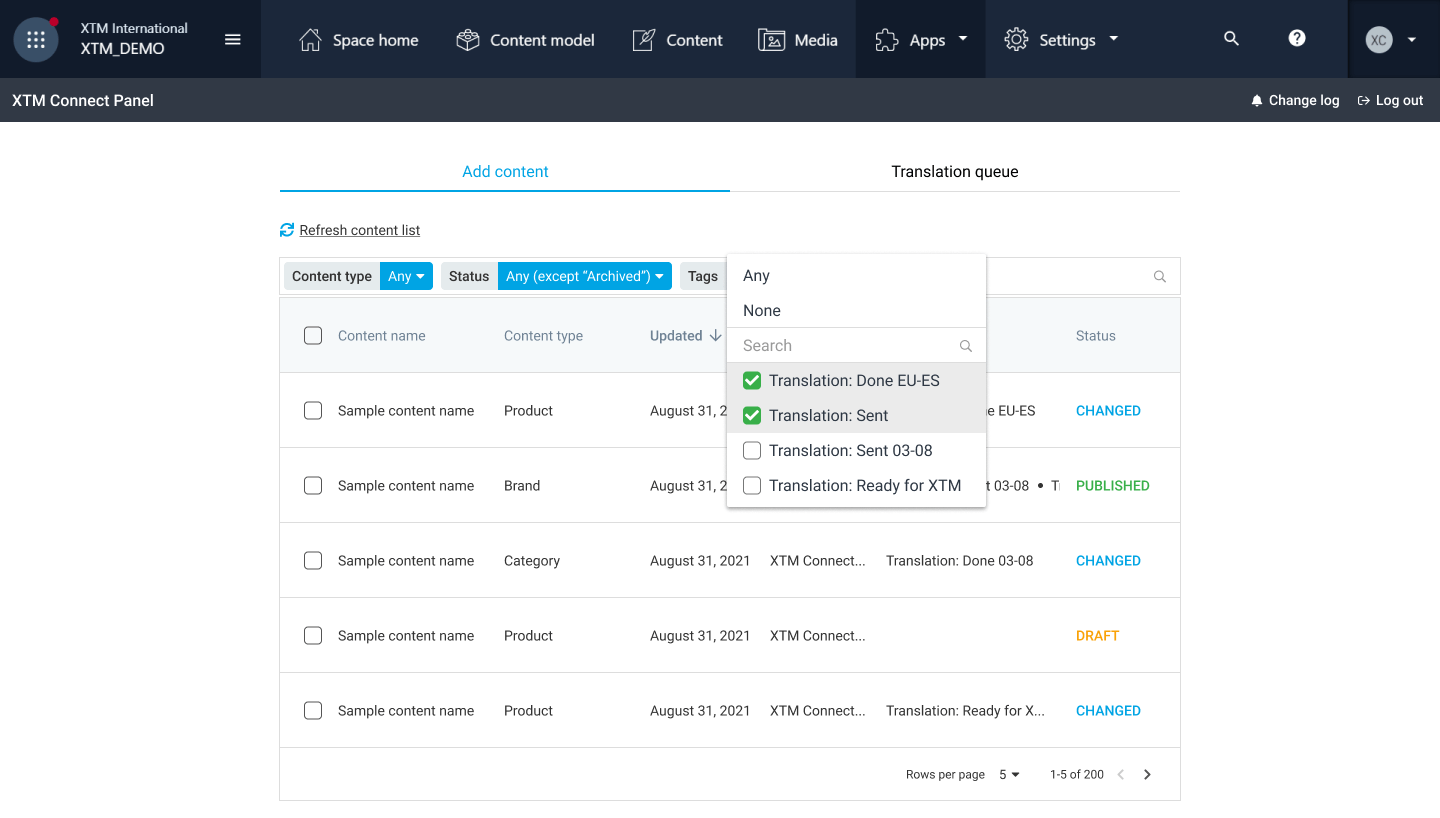 Hubspot
Users can now request localization of all content types created using custom HubSpot modules, such as buttons, forms, menus, or any other custom HTML, CSS and JavaScript items created by the user. This ensures that all content types created in Hubspot, even those coming from custom modules created by Hubspot users, get sent for translation. Companies that for instance use custom modules to showcase customer testimonials on landing pages will be part of localization projects sent to XTM.