It's been quite a year for Crownpeak. The market-leading headless CMS celebrated twenty years in business with well-deserved acknowledgement by review site TrustRadius, which named it as a Top Rated Digital Experience Platform (DXP) and Content Management System (CMS) for the second year in a row.. This accolade underlined what Crownpeak's partners already knew. Quality and speed of execution combined with industry-leading investment in the client's success don't go unnoticed.
Joining forces with like-minded partners helps too. If relevant, engaging content is the key to a successful communication strategy, then sharing it swiftly across multiple languages and territories unlocks the door to global accomplishment. In partnership with XTM International, Crownpeak is turning the key in one lock after another, delivering tangible results for ambitious enterprise clients.
XTM's efforts are also earning recognition; 2021 has seen the cloud-based Translation Management System earn the highest ratings in its category on review site G2.
Crownpeak and XTM's shared commitment to service excellence makes this a natural partnership. Crownpeak's Digital Experience Management (DXM) platform empowers market-leading clients across all sectors to create, manage and optimize customer experiences across multiple channels, quickly, efficiently and at scale. Thanks to Crownpeak's hybrid-headless composable architecture, seamless integration between systems means that XTM Cloud, the only enterprise-grade cloud based TMS, then delivers swift localization into any language. Client content is securely created, translated and shared in a matter of minutes.
Crownpeak Global Lead for Partnerships and Alliances Jason Breed is delighted with the collaboration:
"The partnership between Crownpeak and XTM gives enterprise clients everything they need to go global. Uniting the world's only enterprise SaaS Hybrid Headless CMS with the world's leading Translation Management System delivers seamless content production aligned with seamless localization. Many clients comment that Crownpeak's content management system supports effective collaboration between departments. Our partnership with XTM also offers company-wide localization, so everyone in those departments – everyone in the client company – can make their voice heard in multiple languages."
To hear more about Crownpeak and Jason's thoughts on the partnership click here for the Crownpeak Partner Bytes episode.
XTM International Partnership Manager Lauren Johnston sees a long list of positives for mutual clients:
"This is a partnership with purpose. Crownpeak's headless CMS delivers the flexibility that clients love. It offers platform independence, a best-of-breed technology stack, code maintainability and support across a multitude of channels. When you add XTM Cloud's flexibility to the mix, you have a real winner. At XTM we firmly believe that one size does not fit all, and we offer a range of configuration options and flexible workflows that adapt to each client's processes. Our partnership prioritizes client needs, and truly helps them speak to the world."
The message is clear; whatever your ambitions, Crownpeak and XTM International will help you fulfill them. Two organizations that lead their fields individually are working together to break down communication barriers and deliver lasting client success. Contact us today to find out more.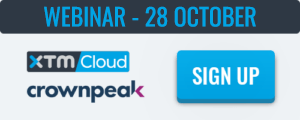 About Crownpeak
Crownpeak's leading, enterprise digital experience platform (DXP) equips teams with the powerful tools they need to create inclusive omnichannel experiences with speed and simplicity.
Our suite of composable applications supports every stage of the customer journey and includes best-of-breed hybrid headless CMS, AI-powered personalization & experience optimization, digital quality & accessibility, content-driven commerce, privacy & consent management, and more. Our unique, zero-infrastructure approach and #CustomerObsessed support, ensures the industry's fastest time-to-market – up to 80% faster than typical enterprise DXP.
Headquartered in Denver, USA and Dortmund, Germany, we are proud to help many of the world's most iconic global brands, including Unilever, Bosch, ASICS, Nintendo and American Express move faster, grow their brands and turn customers into lifelong fans.
For more information, please visit www.crownpeak.com.