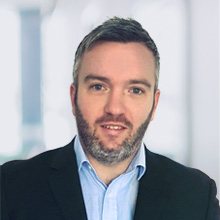 July has brought some changes to the team at XTM International. We are pleased to announce that David Webb has joined us! As a Business Development Director, he will proactively help our global enterprise clients, providing them with innovative localization solutions. David has over 12 years of experience working both with LSPs and client side within the localization industry, so his skillset and knowledge will be a great asset.
I asked David a few questions about his past experience, passions and his future in XTM to get to know him a little bit better. Let's find out why David has chosen XTM International as the next step in his career, and what his attitude is towards some of the problems clients face.
Tell me more about your experience in the localization industry.
I joined the L10n Industry about 12 years ago, initially with Applied Language Solutions working with large enterprise and SMEs alike. I then moved to Lingo24 and was responsible for selling customised MT engines as part of team including Professor Andy Way, building bespoke SMT engines for a number of clients globally. After this I worked for AMPLEXOR for just over 4 years focusing specifically on the life sciences industry working with global corporate clients. In my last role, I worked on the buyer side for the world's largest CRO giving me a real insight to both sides of the localization process.
Why XTM?
XTM is the market leading TMS provider with truly innovative technology built on core standards. Having worked both at an LSP and client side, I felt that XTM was the natural right choice for me given my background, to allow me to utilise my experience to help global enterprises with a more efficient workflow to solve common and complex challenges faced in the localization industry today.
What is the most interesting aspect of localization to you?
As the world grows smaller, localization is now a fundamental element in business to reach a truly global marketplace. As an experienced sales person, I like to help solve customer issues and become a trusted advisor. As a people person, I love engaging with different types of people from a wide range of cultural backgrounds.
Why did you choose this field?
Truthfully, I didn't choose this field, this field chose me. I fell into localization over a decade ago and each time I have made a move away, I have always been drawn back. The industry is more dynamic and interesting than other fields that I have worked in. Plus, the people that work in localization are all fantastic!
How do you see your future in localization?
I will answer this a bit differently, as I see the future of localization becoming more focused on leveraging efficiencies, hence my decision to join XTM. I think that it is hard for localization buyers to differentiate between LSPs, with the 3 key areas – price, timeframes and QA being benchmarks for how they evaluate their relationships. With an ever-growing target audience and I need it right now attitude, companies wish to bring their products to market quicker, therefore I see translation technologies like TMS and MT being fundamental to localization workflows, both now and in the future.
What is your favourite type of task that never gets boring?
I will have to answer this honestly: I love being with my family and I love playing golf and this does not ever get boring for me! In a professional environment, I really enjoy sales and helping people. It is always a great feeling when you get positive feedback and help customers look good within their own companies. This is what I try to achieve each time I engage with a new or existing contact. No problems, only solutions!
With his impressive experience and knowledge, right mindset and positive attitude, David will certainly be able to keep our clients content and help XTM Cloud remain one of the best Translation Management Systems on the market.