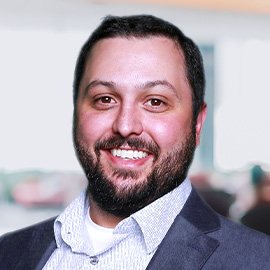 XTM International is pleased to welcome Justin Bechtel as a new Business Development Manager. Based in River Falls, WI, Justin will promote and sell XTM Cloud, the cloud-based translation management system, to the US market. Previously, he worked with Fortune 500 companies and helped them implement globalization programs for greater revenue growth and process efficiency. His areas of expertise include translation management, quality localization programs, translation workflows, system integrations, and service solutions for enterprise clients. As a way of introducing Justin, we asked him a few questions about his career and plans – here's what he told us.
How did you get started in the language industry?
Justin Bechtel: I started by way of an internship while still in college. I was going to school for Sales and Marketing, and a nearby LSP (Sajan) was hiring a summer intern to perform Lead Generation activities. My responsibilities were to perform cold calls and schedule meetings/demos for the sales team. Upon graduation, I was brought on full-time and have been in the industry ever since.
How long have you been working in localization?
JB: I've been in the industry for 11 years, starting as a summer intern in 2009.
Why did you choose this career path?
JB: When I entered this career path a little over a decade ago, I saw an industry poised for growth and innovation. That's what initially drew me in. After finding some success early in my career, I was fortunate to work with some amazing companies. I learned how impactful globalization is to an organization's success and ultimately fell in love with being part of that story.
What's the most interesting aspect of localization to you?
JB: I find lights-out localization and how all aspects of it come together incredibly intriguing. Companies can already execute a fully-automated translation process with zero human interaction today, but its ease and quality will only continue to improve into the future.
Why XTM?

JB: I've always been drawn to the technology side of the industry. Perhaps it's because I've witnessed its impressive growth during the past decade and how it plays such a pivotal role in a successful globalization program. XTM is such a powerful technology that can solve each client's unique challenges, which makes my job that much easier. Not only is it a great solution, but the people are incredibly knowledgeable and fun to work with.
What do you like most about your current role?
JB: Seeing a client's program come to fruition and witnessing the long-term value I was able to bring. I find it incredibly satisfying knowing I've helped the world's top enterprises reach more global customers in an effective way. There are so many innovative and unique companies I've been able to work with, and I like to think I was a small part of their success story.
How do you see your future in localization?
JB: I want to be part of this industry's evolution, which will be through technology. I've already seen the impact tech has had over the past ten years, and being part of that is very exciting. I want to be extremely credible and considered a subject matter expert in all phases of this wonderful, unique industry.
Thank you, Justin, for taking the time to answer the questions. We hope you will enjoy the exciting tech-driven journey with XTM and will play your part in driving US-based organizations to the enterprise-preferred translation management system.
Justin will be taking part in XTM LIVE Silicon Valley, the Translation Technology Summit. You can schedule a one-on-one session with him to get personalized feedback on your localization strategy.