AI – Hungry for knowledge
As we've seen in events this year and in 2022, AI technologies have held a prominent place in most conversations at industry events like this, but the focus has now shifted from the 'what' to the 'how'. People were very interested in learning more about AI technologies such as GPT and, in particular, how they could actually help their organizations, but still showed some skepticism when it came to actual deployment.
The AI hype has hit the localization industry particularly hard in the past 12-24 months, but now that we've all seen what ChatGPT can do, the questions are turning to how this technology can be implemented. While it's indisputable that machine-generated content is now more human-like than ever, attention is turning to concerns about data privacy and whether the content they will be asking tools like ChatGPT to produce will be secure or not. This is a key point that hasn't quite been ironed out in the industry, and one that is causing plenty of debate—a point which some say may play a big part in its future viability.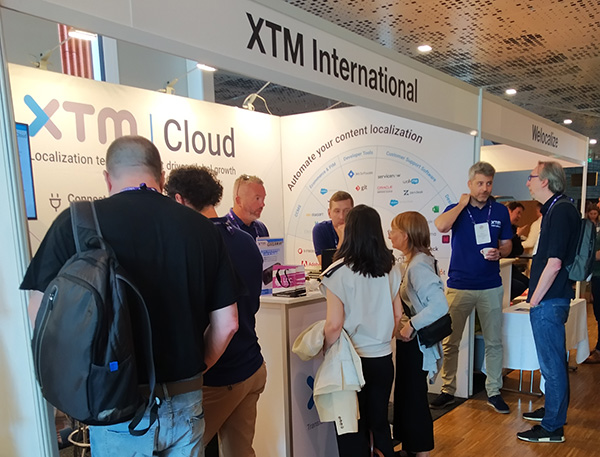 Localization adapting to its new reality
One of the more impactful sessions we saw on stage at LocWorld this year was Beyond GPT4: Hybrid Intelligence and the Language Industry, a panel with Georg Kirchner (Dell Technologies), Alon Lavie (Unbabel), and Jaap van der Meer (TAUS). The panel discussed the transformations the language industry is undergoing due to the huge impact AI has had in recent months, but this was not "just another AI panel" like the many we've seen at events in previous months—it even had GPT4 introduce the speakers!
Some of the more insightful points made were related to the concerns that have arisen among language professionals due to the big disruption we've seen AI cause in the previous 12-24 months. The panel agreed that the industry might well become embedded and that it's probably going to look very different 5-10 years from now. Panelists also pointed out that many other industries have been revolutionized by novel technology in the past but have adapted their jobs to the new reality. For example, money transfers used to involve many people in the past but can now be done at the click of a button from your smartphone. Have bank clerks become fully obsolete? Making international travel arrangements used to involve lots of people and paperwork—today, they can also be done from your smartphone. Have travel agents become extinct? No, they just simply do other higher-value tasks within the travel industry. And these precursors could point out in which direction the language industry is going—adaptation to modern technologies. It will undoubtedly evolve, but that doesn't mean that linguists will become obsolete—they'll just have different roles and responsibilities, confirming the widespread notion that AI won't take people's jobs but instead make them much more productive. However, this comes with a caveat. As one of the panelists put it when asked what the future looks like for language vendors: "Go out and learn about AI. Stay relevant"
Another evergreen topic in localization is connectivity, and it was no different in Malmö, although this time with a small twist. Cost efficiency has become a high priority for most companies' localization programs, as they optimize workflow processes even further without deploying additional resources. For this reason, we talked to a lot of people about 'simplified connectivity' – ways in which loc-tech providers can further improve their integrations with content-authoring tools and make them slicker and more robust in their use. 
With composable technology now dominating the localization landscape as the preferred technological architecture to drive up efficiency and quality, connectivity is at the heart of the conversation. With an increasing demand for new connectors to emerging platforms, the focus will now be on tech providers to deliver reliable solutions that help their customers reach their global audiences more cost efficiently.
14th Process Innovation Challenge (PIC) Awards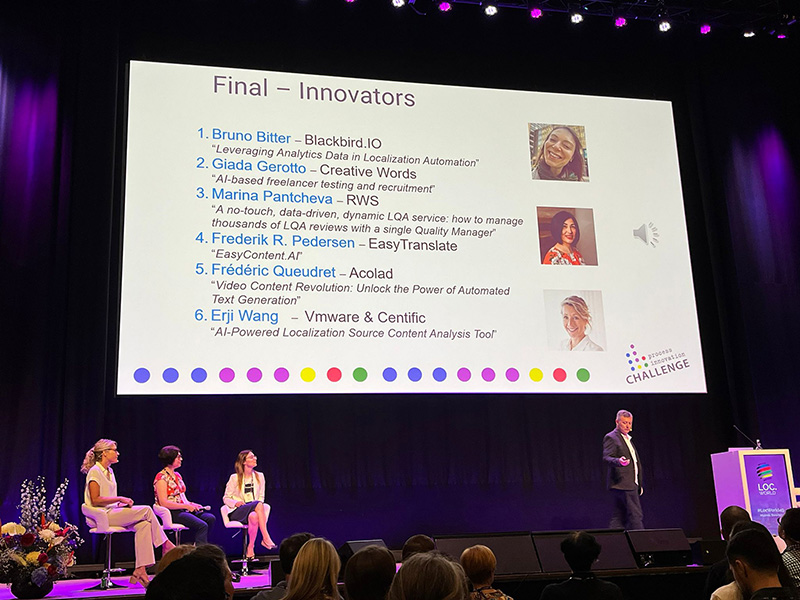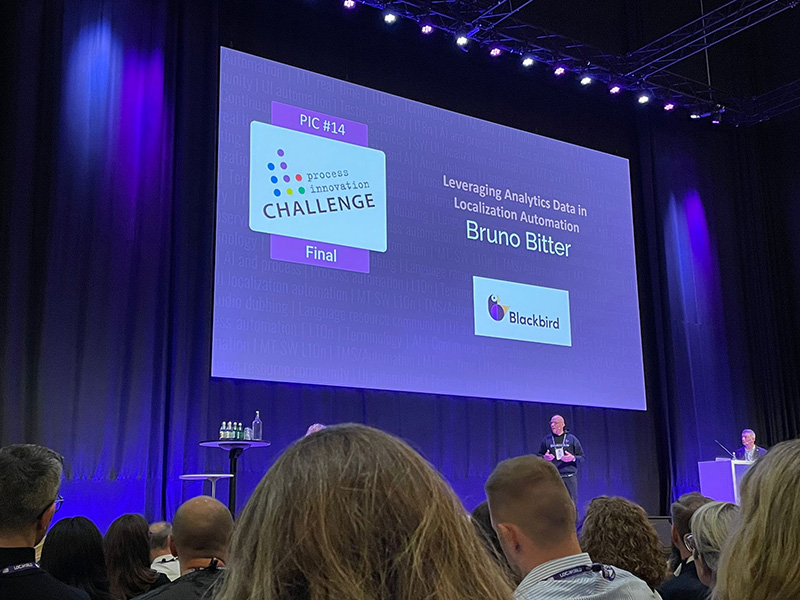 It's not a proper LocWorld without the PIC Awards! The PIC Awards is an initiative driven by XTM's Marketing Director Dave Ruane and Alex Bernet. It is an open platform for innovations and innovators in the localization and translation industry. The session itself allows innovators in localization technology to pitch their ideas to industry leaders and experts, who then vote for the winner of what they think is the most innovative presentation.
This year marked the fourteenth PIC Awards, and if you were there, you would have heard the labyrinthine play on the number 14 by the Swedish hosts: did you know that Ingmar Bergman was born on the 14th of July? Or one of his most famous films, "The Seventh Seal", was set in the 14th century? And that Uppsala (where he was born) is a 14-hour round-trip drive from Malmö? All in all, it felt appropriate for the PIC's fourteenth edition to land here. We spoke to Dave about the PIC and he could not hide his delight at the traction that this event has gained. "We had the most innovations in the PIC's history; 26 submissions and 23 proposals showing in the preliminary rounds, and six innovators on the final stage. The final was our best yet, the innovators did themselves and their companies proud and the audience (over 360 folks in the room) took a direct part in cheering them on. " In terms of the overarching topics that were submitted, Ruane mentioned that it came as no surprise that there were "a healthy amount of AI-related submissions, but also focus on connectivity, recruitment, LQA, Video, and content analysis – quite a spread of topics."
The leaders and experts asking the finalists the hard questions this year were previous PIC winner Giulia Tarditi (Qualtrics), Britta Aagard (Semantix), and Esther Curiel (Zoetis). In the end, the winner was Bruno Bitter from Blackbird.io for his process presentation Leveraging Analytics Data in Localization Automation. The podium was completed with Erji Wang from VMware & Centific as runner-up and Giada Gerotto from Creative Words in third place.
Tack Malmö – Hello Silicon Valley!
All in all, LocWorld produced another fantastic event that allowed everyone to learn about the latest industry trends, learn from a fantastic and insightful lineup of presentations and panels, and have the opportunity to have a chat with localization experts about their needs, pain points and, more importantly, quench their thirst for localization knowledge. It was a pleasure seeing you all in Malmö and we can't wait to see you all again in October in Silicon Valley!