Author
Melissa Favre-Lorraine
XTM International is delighted to announce that its powerful translation management system, XTM Cloud, is getting a refreshed look and feel with XTM Cloud 13.2. XTM is on a mission to make the best even better, enhancing its user experience one module at a time, starting with three redesigned tabs. This new UI enables project managers to get content localized more efficiently with fewer steps and clicks, enjoy a seamless experience with added step-by-step guidance and get greater insights into their XTM Cloud instance with access to more detailed information.
Same feature-rich platform. Better experience.
One of the most crucial components of a positive localization experience is a solid user interface. It should be designed with the user in mind, making it simple for them to send content for translation, get it localized and published in time. One module at a time, the feature-rich TMS is getting refreshed following the latest front-end standards and UX best practices.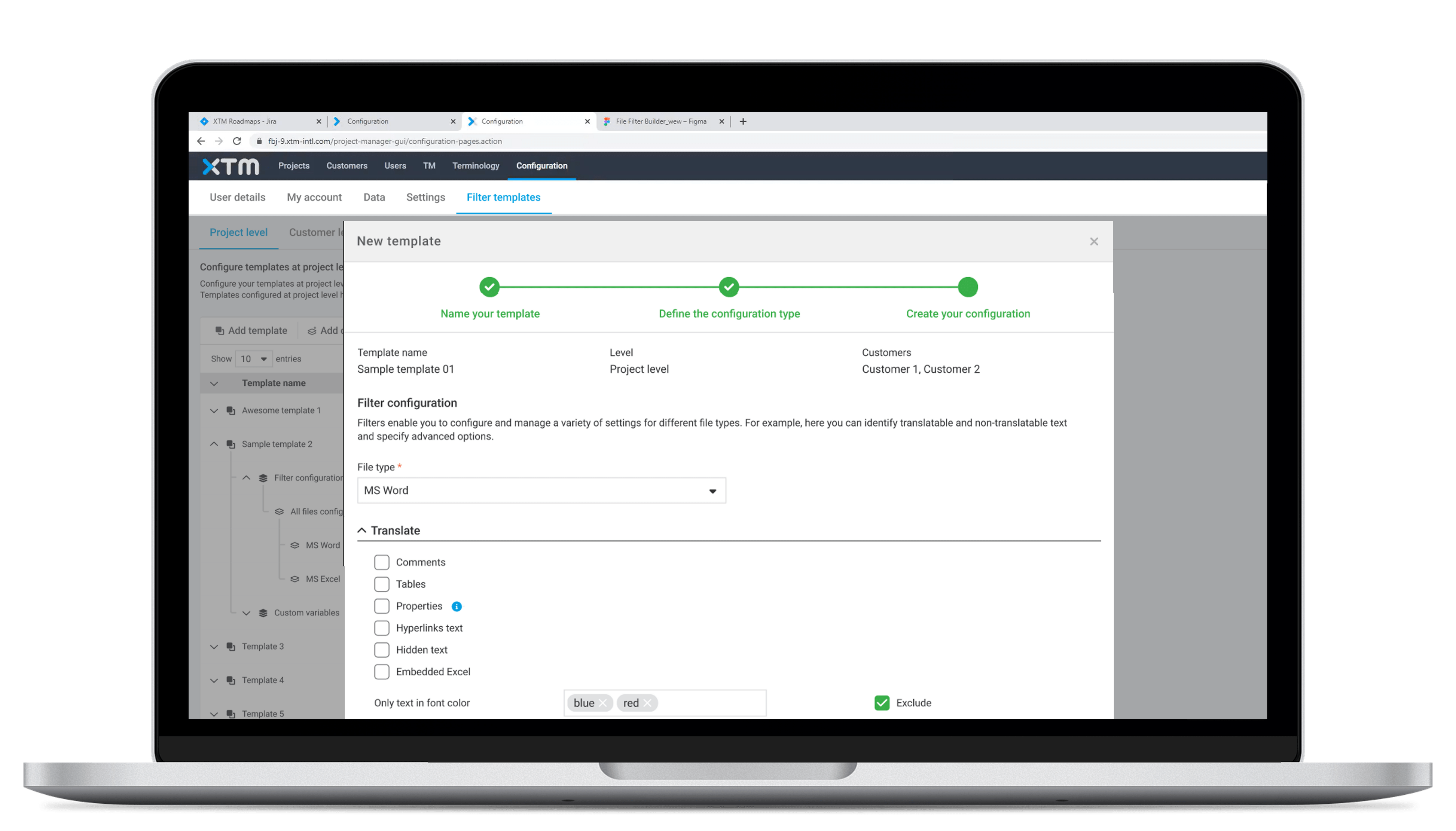 After redesigning its CAT tool, XTM Workbench, in XTM Cloud 13.0 and introducing the Query Management Module in 13.1, XTM Cloud 13.2 now unveils two redesigned features, and the addition of a brand new one:
Filter Templates now showcases step-by-step guidance, making it easier and faster to create or update templates, while always displaying key information to ensure project managers know exactly how the template will be applied to their localization projects, at all times.

The Project module now makes it easier for project managers to keep track of translation projects being archived or activated with additional icons and notifications, making it easy to track status in real time and be always up to date with what is happening.

A new API callback tab has been added specifically for API users, enabling them to get an overview of all their API callbacks at a glance. That way, if any issues occur, an administrator can easily spot it, get additional details, understand what is happening and take steps to fix it.
Sara Basile, Product Manager at XTM International, is particularly pleased to see these changes:
We performed usability testing which enabled us to narrow in on the kind of improvements our users needed. With that in mind, we redesigned some features completely, made small but important changes where necessary, and even created some things from scratch! I'm extremely excited about starting to introduce a refreshed look and feel, as I know our users will see instant results."

Sara Basile, Product Manager at XTM International
With this release, XTM is again putting its users at the center of its development strategy by leveraging user feedback coming directly from XTM Wish List, XTM's feature-request platform. Sara Basile illustrates how this process influenced XTM Cloud 13.2:
For this release, we addressed a request from a Language Technologies Manager at a global retail company who uses connectors. They noticed that sometimes, API callback failures would go unnoticed, leading to translations not being returned to the source systems without anyone realizing it until the project got delayed. They highlighted the fact that being able to monitor callbacks would be tremendously helpful, which led us to creating a brand new API callback tab."

Sara Basile, Product Manager at XTM International
Other new features also include API improvements, support for AsciiDoc, support for new languages and new language variants, MT updates, pre-processing projects updates and more.
Want to find out more about XTM Cloud?