Author
Melissa Favre-Lorraine
Introducing support for continuous localization
Sitecore's powerful CMS enables users to create, manage and deliver content across unlimited channels and markets. The XTM Sitecore Connector lets users automate the creation of multilingual content, managing it straight from their Sitecore CMS. This enhances content creation by automating every step of the localization process.
While XTM Connect – Sitecore 3.0 introduced support for pre-processing, ensuring content consistency while increasing efficiency, the latest version of our connector introduces support for continuous localization.
Add pages to existing translation projects
How frustrating is it to have created a translation project, only to realize minutes later that you could have added more files that were related to the same content and with the same deadline? Sitecore users won't have to worry about this anymore, as they now have the ability to send additional content for localization, even if a project has already been created.
For instance, a marketing team is refreshing its website homepage for the launch of a new product. The page is updated in Sitecore and then sent for translation to ensure it is available in all relevant languages at launch: English, French and Spanish. A new landing page, which focuses on the product features, is also created. The content is similar to the homepage, although it goes into more details about the benefits offered by the new product. The Sitecore content manager realizes that this page needs to be translated and ready at the same time as the homepage, as clients need to be able to access all relevant information at launch.
Previously, the content manager would have had to create a new translation project, selecting the same workflow and deadline as the homepage project. Now, all they have to do is add a file to the existing project. This way, there is only one project to track, one workflow to select, and one deadline to meet. All new web content related to the launch is translated at the same time, ensuring that all repetitions are leveraged, and that linguists are seeing everything related to this new product at once, making it easier for them to produce high-quality translations.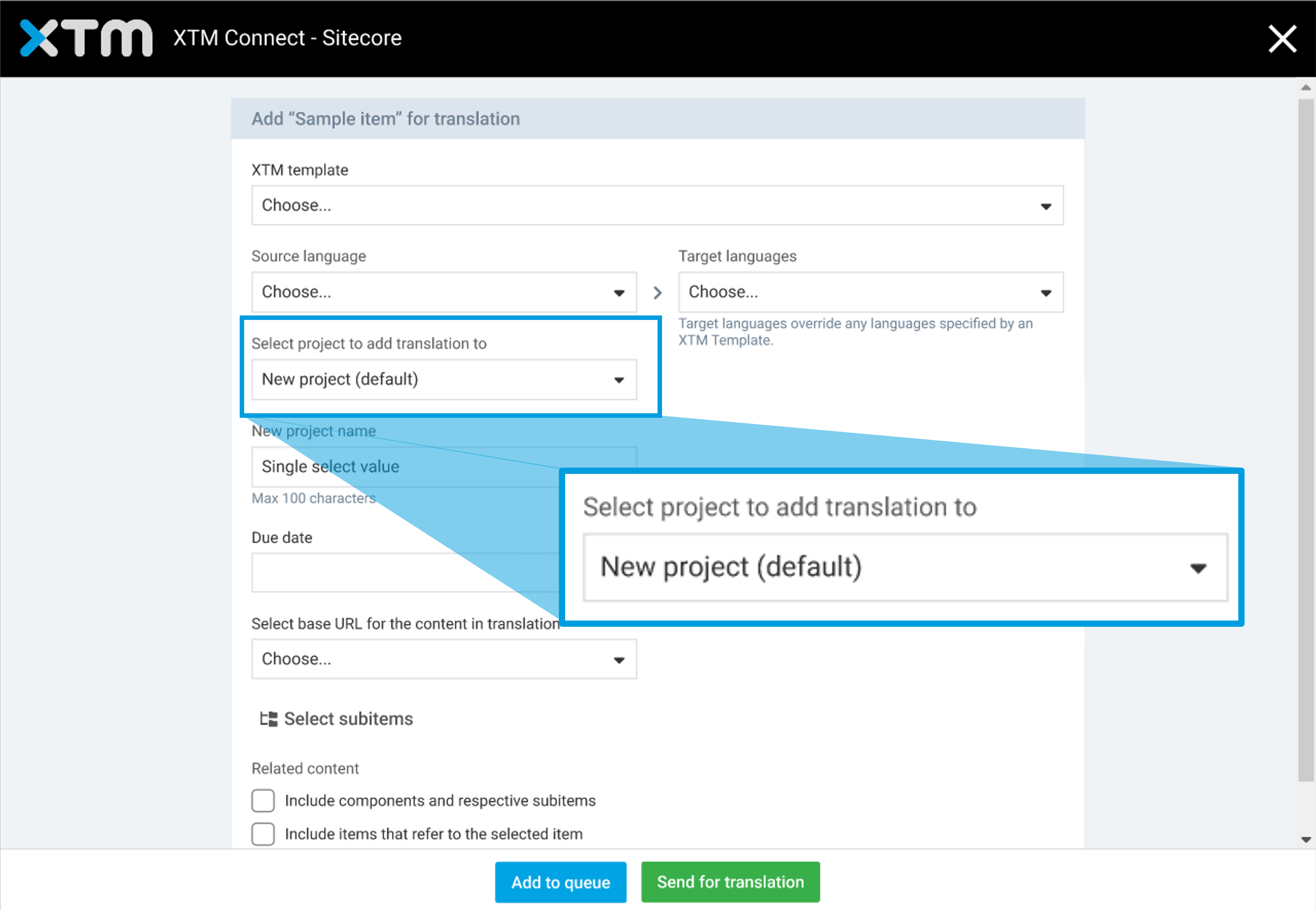 We're very excited to launch this new functionality, but we're not stopping here. In the future, XTM Connect – Sitecore will be able to detect content changes within the source file without having to re-upload anything, ensuring linguists are always working on the most up-to-date files. In the meantime, you can see the full list of new features included in Sitecore 3.1 in our release notes, or get XTM Connect – Sitecore.
We are continuously adding new features to our broad range of connectors, from CMS and Marketing Automation to Design and Business Tools and more, so don't forget to check out our full list of integrations!