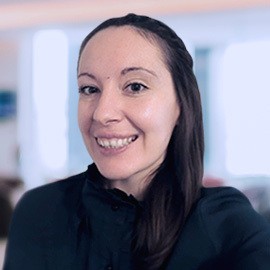 XTM International is pleased to announce that Lauren Johnston has joined the company in a new role as Partner Development Manager. Lauren is based in London, UK and supports the Partner Management team in broadening the company's partner relationships globally. Lauren's core responsibilities include developing and managing partner networks and channels, and building awareness of XTM International and its product portfolio.
During the last 5 years, Lauren has advanced quickly in customer-focused roles; managing and developing customer relationships at various language service providers (Jonckers and LanguageWire). In her new role, she will strategically grow XTM International's partner ecosystem globally, enabling further integrations and channel opportunities for us and our customers.
Dave Ruane, Digital Content and Partnership Manager, commented, "Developing new and existing integrations is key to the growth of any Translation Management System. This past year we have seen an uptick in demand for further and enhanced connectivity and are responding to that demand. Lauren's very solid market experience and her knowledge of the industry will be instrumental as we develop the partnerships that our customers will ultimately benefit from."
We sat down with Lauren for a virtual chat to find out more about her experiences, her thoughts on the industry and building partnerships in particular.
What current trends do you see in translation and localization?

Lauren Johnston: Integrating localization services and technology into a company's overall content strategy in real time is a continuing and growing trend in 2021. The growth of digital channels has led to an explosion in global content and enterprises don't have time to hop between different platforms. Localization software providers are being tasked to integrate into these ever-growing ecosystems to provide communication in real time with content management systems, product information management, digital asset management, data management and wherever else customers create and store their content. Companies want access to automated and customizable workflows at the tap of a button and integration is a key pillar to enabling that. The days of never-ending email chains for localization requests are long over and I don't think anyone will be crying about that!
How did you get started in the language industry?
Lauren Johnston: Even though I studied Spanish as part of my degree I happened upon the localization industry by complete chance and applied for a new business role on a whim 5 years ago. Since then I have sold language solutions globally, created partner channels, dressed up as a glam rocker (there are no photos!), and I am now excited to be part of building the partner program at XTM International.
Which aspect of partnership development do you consider most challenging?
Lauren Johnston: Developing partnerships is a two-way street. If there is a power imbalance or one side is doing all the heavy-lifting and receiving none of the rewards, it does not enable a trust relationship to be built, and can be a recipe for disaster. Not only could you lose a potential revenue stream that took time to build, but you could also lose a strong advocate of your brand which can damage brand awareness and reputation. To rectify this, it is essential to set clear expectations with new partners at the beginning of the journey and continue an open dialogue throughout the partnership. Good partnerships are living and dynamic and grow over time.
What qualities are technology partners looking for in their potential partners?
Lauren Johnston: Technology companies are looking for partners who offer products that will give their customers a seamless experience and connect the dots between the services that they offer. Technology partners are always looking for companies who invest in the future; therefore their partnership model is moving away from the simple pay-and-display model towards a model that rewards engagement and joint activity that brings real value to the marketplace.
What's the secret behind mutually beneficial technology partnerships?
Lauren Johnston: Like any strong partnership, honesty and transparency are key. Both sides need to be clear on their goals, their definitions of success and the level of engagement each partner is able and willing to give. Successful technology partnerships rely on each partner knowing the other's solution, how it fits into the market and how it can be positioned to best serve the marketplace. The focus should be on creating mutually beneficial and profitable partnerships with key businesses, not to collect logos to add to the company website.
What unique values does XTM Cloud offer that other technology providers don't?
Lauren Johnston: As a software company the value of XTM Cloud comes from giving our customers the tools to simplify, control and take the guesswork out of the sometimes muddy localization process. Customers use our powerful software to get a 360-degree view of their resources, allowing them to call all the shots with regard to their localization strategy. As XTM Cloud is built in the cloud for the cloud, our users are in complete control of how they want to integrate XTM Cloud into their wider content ecosystem. Customers also value the fact that we are an independent and established technology provider with a single focus on technology. This means they can deploy industry-leading technology, own all of their language assets and then concentrate on finding the best service providers to do the translation and linguistic work.
Why should companies partner with XTM International?
Lauren Johnston: Partners who share the same core beliefs as XTM, namely being cloud-based, agile and focused on innovation can enhance their standing in the marketplace by offering their customers a seamless localization experience backed by a powerful AI. Partners can also be part of the exciting XTM community by taking advantage of our TechTalks and XTM LIVE events to build their brand and widen their exposure to global enterprise companies.
How should partners get in touch with XTM International?
Lauren Johnston: We welcome new technology and content partners all the time. They can contact us directly and we would schedule a conversation and start a process from there.
What's your motivational career mantra that keeps you going?

Lauren Johnston: If you can't find a way, create one! Building relationships with partners is rarely a linear journey and you can encounter quite a few dead ends and locked doors which require a bit of creativity and perseverance to unlock. When you reach a dead end, take a deep breath, reset and get your thinking cap on.
Thank you Lauren, for taking the time to chat with us. We are very happy to have you on board and wish you success in your new role!