Industry generally positioned well to weather the storm… we are in suspended animation right now.
The inaugural XTM LIVEStream that took place last month is a virtual event gathering content publishers, language service providers and technologists to discuss current topics of interest in the localization technology space.
We had a full house attending the half-day event, and got plenty of interaction and activity from the audience. The overall enthusiasm of the participants was reflected in their feedback – the event scored 8.2 out of 10 overall by surveyed attendees, with the survey sample being >250.
This is the first of three blog posts covering topics raised at XTM LIVEStream. In this blog, we will give you a retrospect of the industry insights presented by Florian Faes, the Managing Director of Slator.
Coronavirus and the language industry
First, let's address the elephant in the room. Did you know that the current COVID-19 pandemic will cause global economies to shrink by 3% this year and western economies are predicted to contract by 6.1%? This unprecedented health crisis will most likely not leave the language industry completely intact.

We took the opportunity to ask the audience of XTM LIVEStream their opinion on the influence that the coronavirus outbreak has on their work routine. Poll(*) participants were quite clear that they are seeing an immediate impact in their work life, with almost 3 quarters (72%) indicating that their work arrangements were affected. (*The poll sample size was > 250.)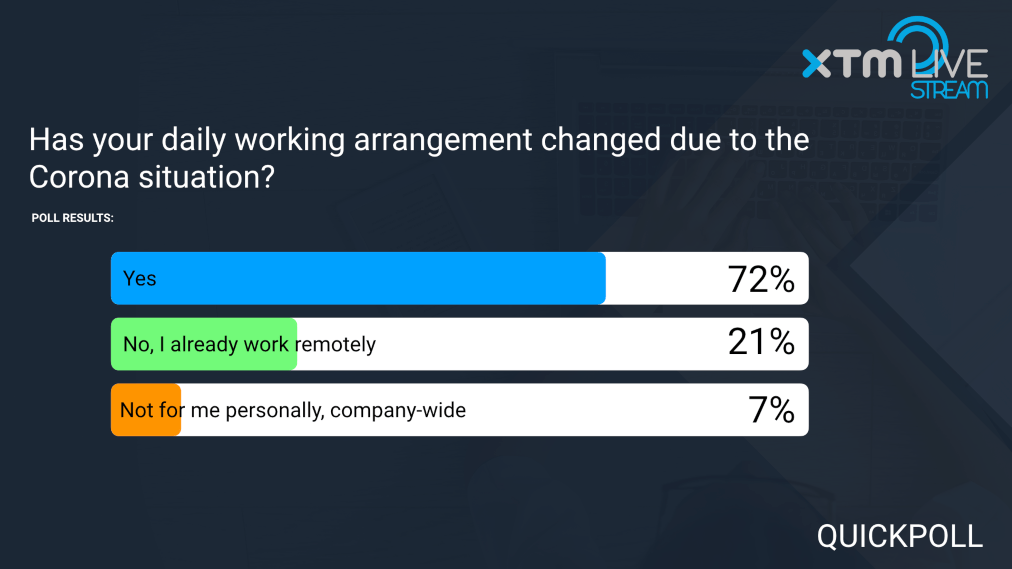 Florian Faes commented that the real impacts in the language industry are yet to play out. He pointed out that the overall market is saying the localization industry is positioned quite well to weather the storm, those companies with a strong balance sheet and solid customer base, are outperforming the broader industry.
The short-term situation is particularly positive for streaming services (Over-the-top content providers) and gaming industries which are expected to grow through the crisis. Other notable trends include people wearing facemasks to do dubbing, requests to do policy translations due to COVID-19, and a boost for companies in the virtual remote interpretation space. Using share-price as a guide, this industry is relatively well-positioned to weather the storm.
At a macro-level the current market size is 24.4B USD across all sectors. Public sector is the leading spend industry followed by technology, travel and retail, professional services, and engineering and manufacturing. The technology space is worth around 3B USD and has been very fast growing in the past 10 years. Watch for an update by Slator in May 2020.
Innovation Funding landscape and coronavirus
Private equity investment funds have been well entrenched in the language services industry as opposed to venture capital that has not traditionally looked at this sector. In the last 18 months around 200M USD venture funding was raised in the core localization (L10n) space.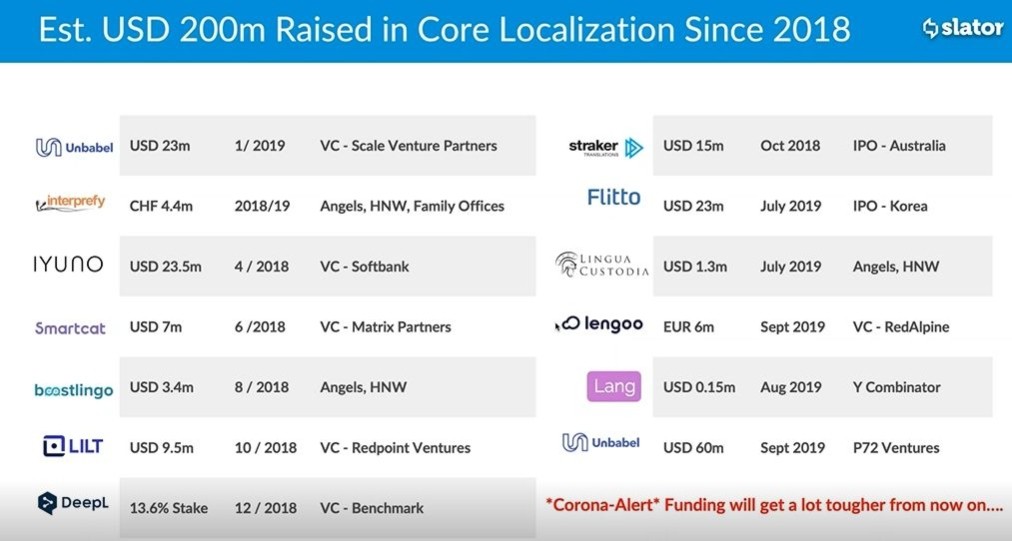 During the next 6 months, funding will likely dry up or get tough, companies have a bit of a runway to try and get through that. For companies who got funding, they were essentially poised for growth. Now, faced with a completely different macro situation, will these businesses be able to deal with the disruption brought by COVID-19 and conserve cash? Already we have seen some re-organisation activity – will other growth-ready companies take actions?
Latest trends in Machine Translation
The past 3 or 4 years has seen a good deal of retooling to get increased quality in Machine Translation (MT). A new service area gathering steam is Neural Machine translation (NMT) managed service. Buyers are spoilt for choice between generic, custom and trainable MT services, startup companies, managed services, service providers, and open source frameworks. Some key players on the market include Amazon Translate, Google Cloud platform, and DeepL Pro.
Localization function has matured dramatically. The trend for centralized localization functions has accentuated and will continue, which means a good environment for technology companies.
Industry outlook for this year
Looking into the current developments in the industry, we are anticipating that 2020 will be recessionary, as markets will shrink. The industry's focus will shift to protecting staff, ensuring business continuity, and retaining clients.
In times of pandemic when a strong balance sheet is key, we will observe a slowdown in Mergers and Acquisitions (M&A) activity. As for translation service rates, the shift from word to hourly rate and subscriptions will accelerate. In the area of machine translation, a rapid increase in new offerings and deployment options is likely to happen. MT managed according to customer requirements will also become a valid option for buyers.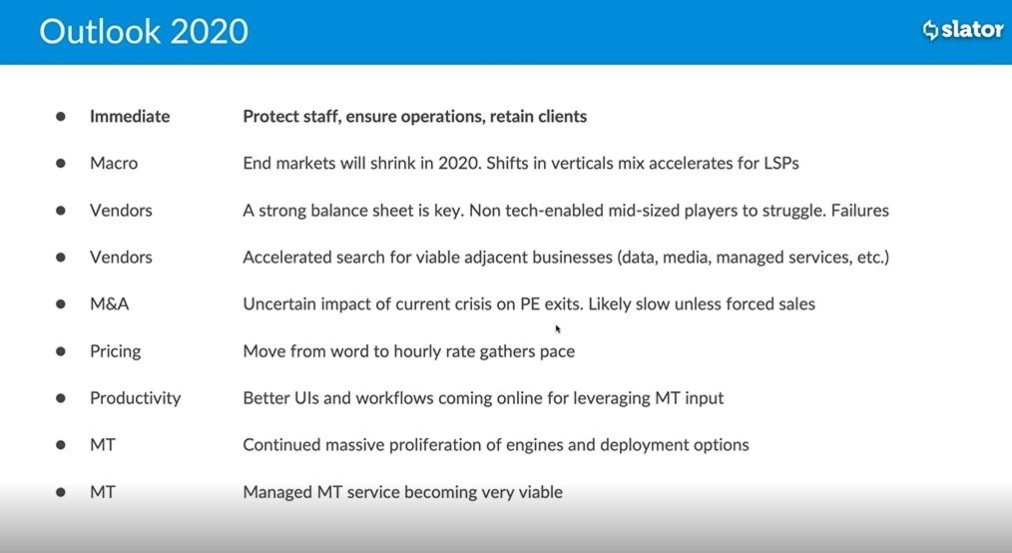 One of our audience asked Florian, "During the 2002-2008 recession the first functions to see impact were documentation and localization, will we see this again?"
Florian remarked, "What we are experiencing right now is on a different order of magnitude. Will companies cut costs early or not? We are in suspended animation right now. I wouldn't agree our industry is the first to go. In the previous recession, volumes went down, but L10n and translation are not "nice to haves", you need to do it. Maybe some marketing translations don't get translated or regular projects get cut. It's a tough call to make and still early to predict right now".
We liked the idea of suspended animation and will take Florian's advice to wait and see.
Keep tuned for our next post from the XTM LIVEStream event. If you are looking to learn about data and creative ways of using it to make business decisions, then you will not want to miss it.