Leverage the technology transforming translation
Artificial intelligence is revolutionizing the language industry, creating automated content faster and more human-like than ever before. In recent years, artificial intelligence (AI) has gone from being a novel topic to a vital necessity. Implementing AI has become key in order to gain or maintain competitive advantage, accelerating processes such as digitization, content creation and translation.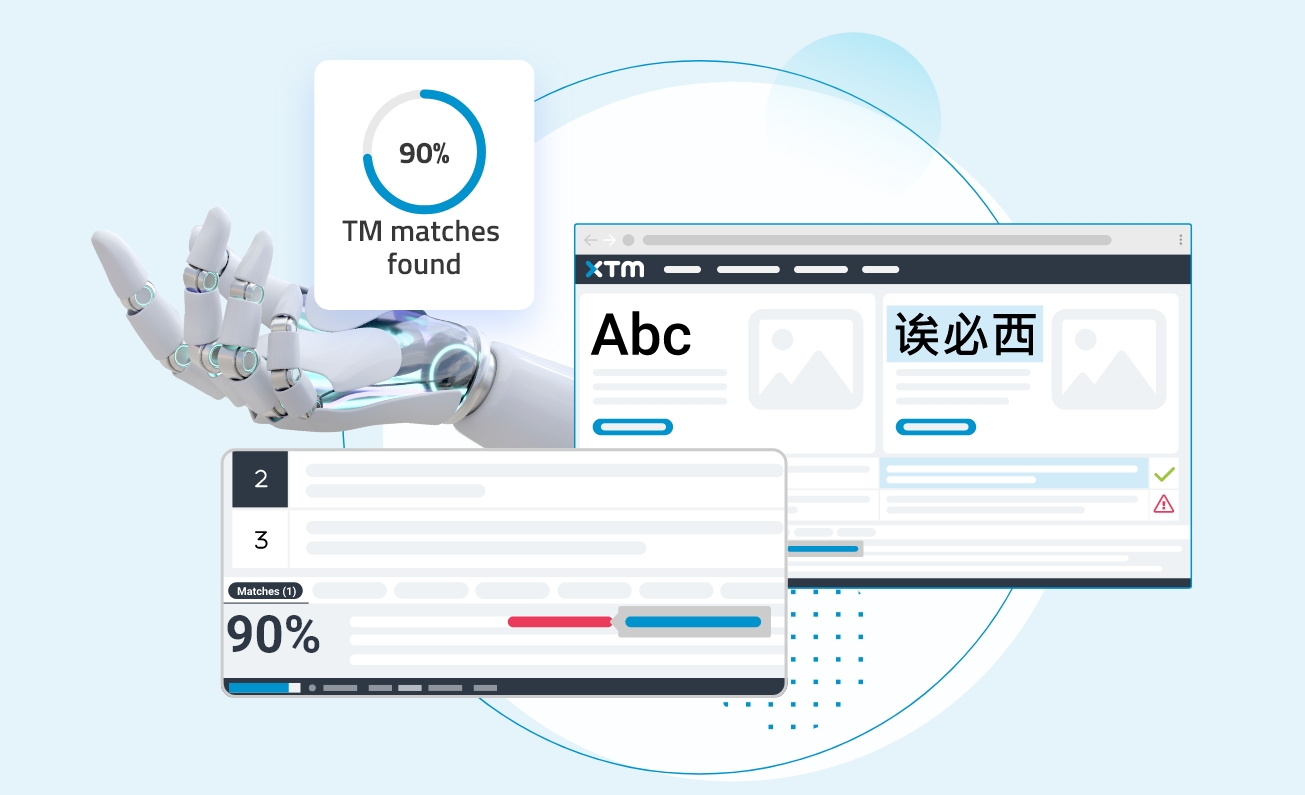 What Is Artificial Intelligence (AI) Translation?
The language industry in particular has been significantly disrupted by artificial intelligence. Since the arrival of technology like neural machine translation (NMT) and AI-enhanced translation memories, the impact and disruption of AI technologies has been constant. AI developments are appearing thick and fast, delivering increasingly faster, better, and more modern features such as large language models (LLMs) like ChatGPT. 
These continuous artificial-intelligence advancements in language translation have enabled companies to create and translate more automated content faster than ever before. They can be applied to any type of content, such as web pages, blog articles or social media posts, and translate them all in a matter of minutes or even seconds. AI tools can create human-like translations, which result in time and money savings from the moment they are deployed.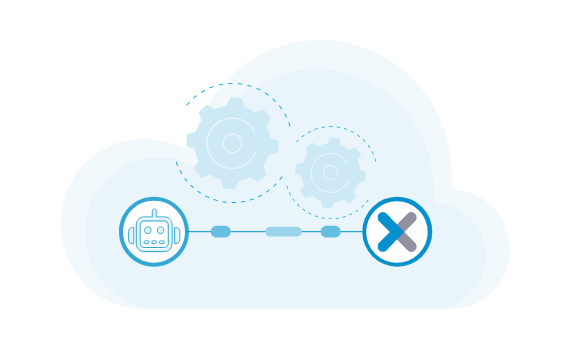 How Is Artificial Intelligence Used in Language Translation?
Artificial intelligence translation tools drive up the quality of your content and help you better tailor it to your audiences. There are a wide range of AI-powered tools revolutionizing language translation. One of them is AI-enhanced machine translation, such as NMT, which ensures that the message you convey uses the right terminology and the tone you want it to have: positive or negative, appealing or exciting, but also not inappropriate or offensive. Using the right terms in the right context allows for more natural, human-like output.
Speech recognition supported by artificial-intelligence technology means that words can be transcribed and translated into any language in a matter of seconds. This enables companies to convey their messages in all relevant markets without any delay. Also, thanks to artificial intelligence, companies are driving up customer satisfaction and brand recognition. One of the most common solutions for this are AI-powered chatbots, who can understand and provide help to customers in their local language.
Overall, AI technology has revolutionized language translation by enabling companies to go global more quickly and still provide localized content of the highest quality. Furthermore, there is nothing to indicate that artificial-intelligence technology is going to stop here—we expect to see further advances to continue to appear in the future.
84% of businesses adopt AI because they believe it gives them a competitive advantage

77% of businesses are using or exploring AI

AI can increase business productivity by 40%
What Are the Benefits of Using Artificial Intelligence Technology in Language Translation?
AI tools in translation also take your translation and localization processes to a whole new level of efficiency. Thanks to their ability to create human-like translations in a matter of seconds that require minimum manual input from linguists, companies are able to localize large volumes of content in a much shorter time span. AI features that ensure the right use of terminology means using fewer resources while considerably enhancing the quality of the output.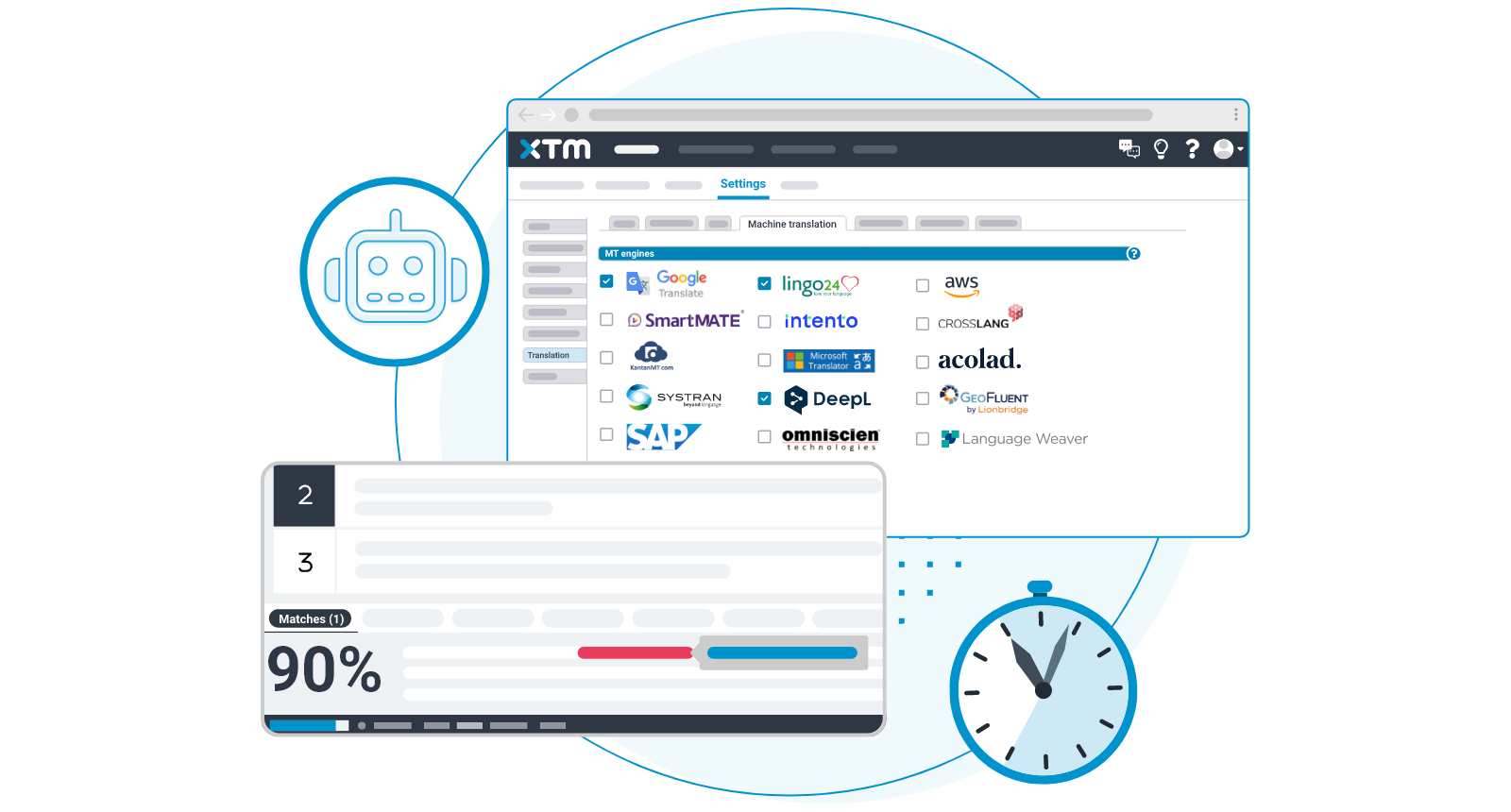 Time Savings
AI technology in translation software allows linguists to save valuable time by providing higher-quality MT translations and tools that remove repetitive tasks. Thanks to AI features, you can now automatically add non-translatable content in the right place, align translation memories in a migration process in a matter of minutes, and convert mid-level fuzzy matches into high-fuzzy ones that require far less human input.
This way, translators can focus solely on their translations and optimize their time rather than spend their time on manual, time-consuming actions that do not provide real value.
Reduces Costs
Localization technology that supports AI tools enables its users to produce translations at a fraction of the time. This results in being able to create more translated content with the same resources, faster publication times and decreased costs from not having to retranslate text more than once.
Thanks to the efficiency of artificial-intelligence tools and technology, the funds previously intended for tasks that can now be done automatically can be allocated and spent elsewhere.
Higher-quality Translations
Every market has its nuances when it comes to content. To ensure that your localized content is on point for every market, artificial-intelligence tools such as term extractors or AI-enhanced TMs ensure that linguists use the right terminology and tone in their translations.
This allows companies to effortlessly capture global audiences with consistent copy to maintain their brand tone and voice and ensure that no forbidden terms are used.
Why Should Every Company Deploy Artificial Intelligence Technology in Language Translation?
The continuous arrival of new, improved AI technologies has totally disrupted the language-technology landscape. Artificial intelligence can create and translate content in just a few seconds with human-like quality. This allows companies to publish their localized content in a fraction of the time, which results in accelerated global-content strategies, reduced go-to-market goals, and lower localization spend—all without compromising desired output quality.
Landing in new markets in a timely manner with quality, localized content is a key part of any successful global strategy. Companies that deploy AI can reap these benefits straight away, and these advantages have not gone unnoticed in the business world. Therefore, artificial intelligence has become a basic technological need. Companies that don't deploy it are immediately left behind and at a competitive disadvantage when it comes to global expansion.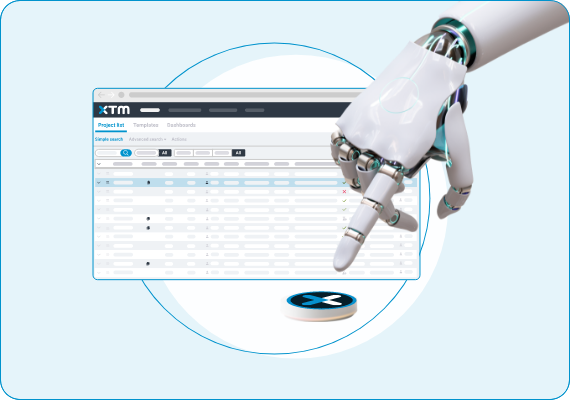 Leverage the latest AI technology with XTM Cloud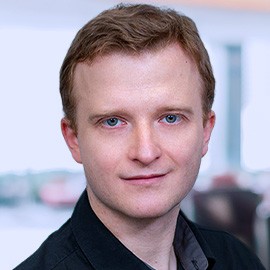 XTM Cloud's AI features teach machines how human language works, training computers to understand and recognize the nuances of human language to improve translation productivity and increase quality."
Rafał Jaworski
Linguistic AI Expert
Inter-language Vector Space (ILVS) is an NLP AI framework we have developed which improves both translation efficiency and quality. It works out semantic relationships between words across 250 language pairs, and helps localization managers and linguists by automating repetitive, time-consuming tasks.
Erroneous MT translations can be frustrating. This usually happens when several translations are possible or with homonymous terminology. Artificial intelligence can solve this issue by enabling MT results to take the existing TM entries into account. This ensures that the right words are used in the right context by filling in the missing words in a segment from a previous TM entry, converting a low fuzzy match to a high fuzzy or even a 100% match. Thanks to this AI tool, we estimate that the decrease in human input required to amend MT translations can go down on average to approximately 30%. In other words, about 60 hours per month.
Having to place inline tags manually is one of the most time-consuming tasks a linguist has to do. XTM Workbench users can rely on XTM AI to automatically transfer them to their exact location in the target segment. This enhances the linguists' productivity thanks to only having to focus on the task at hand. With a 98% success rate, XTM's auto-inline AI tool can save your team up to 200 hours per month. 
Building a TM from scratch can take months of work. To manually build a standard-size TM with 50,000 segments would take approximately 50 hours – XTM's artificial intelligence is able to do that in minutes. XTM AI matches your legacy source documents with target texts to build a rich translation memory. This not only accelerates your translation times, but it also reduces costs by at least 50%.
XTM Cloud supports leading machine translation (MT) engines which include NMT and customized engines. Users can send their content to an MT provider from our localization hub, enabling streamlined machine translations that save time. Therefore, linguists can focus on tasks that create value, thanks to the NMT taking care of the bulk of the work.
Efficient localization requires being able to retrieve TM matches in the most productive way. With higher leverage comes faster translations and less costs. At XTM, we have developed our own proprietary algorithm for TM leveraging: Weighted Token Levenshtein (WTL). WTL is able to spot matches which normally wouldn't be recognized despite being almost identical. It can transform 50% matches into 80% ones so that they can be leveraged by the TMS, retrieving more matches than any other TMS. This means that linguists don't have to translate segments from scratch, which can save them on average 250 hours per month. 
XTM Cloud AI Features Coming Soon
Access the Technology of Tomorrow
Learn More About AI Translation Technology