1. Optimizing your team structure
If you were not using a Translation Management System previously, it is quite possible that all the actors involved in your localization program were scattered around in team silos, focusing solely on their department and tasks, with goals that may not have been aligned with those of the other teams. This lack of communication between teams can be particularly detrimental to the quality, consistency and, eventually, time-to-market of the localized product. Many organizations make the decision to centralize their localization activity in a single team rather than it spread out across different teams, but this unified system requires the right technology to maximize its efficiency.
A Translation Management System is an ideal enabler for this type of team structure, since it allows for everyone involved in the end-to-end localization process to work and communicate on the same platform effectively and in real time. Having a role-based setup within the TMS means different actors only have a view of the tasks and responsibilities assigned to them. Joint collaboration minimizes communication delays and the TMS's automated features make the process considerably more cost-effective by reducing turnaround times and removing unnecessary manual tasks. Nevertheless, if your program's circumstances mean your team is decentralized, using a TMS means that the different teams can also work on the same system despite their individual work processes and siloed use of language assets, also providing a base to build upon in the event that the process is centralized in the future. This model can work well, in particular if there are common rules which teams adhere to, for example with regard to language-asset sharing.
Having localization technology at your disposal which can provide you with customizable and flexible workflows gives you the chance to re-evaluate and restructure your team and strategy. A technology that harnesses the industry's latest and most efficient features can be an enabler in the optimization of your existing methodology. Because your Translation Management System offers more flexible features like customizable workflows and seamless connectivity, you will no longer be restricted to a rigid methodology and will be able to apply a more flexible and free-flowing one. For example, with a TMS, project managers can send and receive files automatically, and communicate with linguists in real-time on the same platform, moving away from outdated and inefficient processes that cause bottlenecks. This will increase your team's productivity levels and give them more time to focus on the tasks that matter and add value to the program.
The implementation of a Translation Management System and the new opportunities it has afforded us has driven a transformation in our team and expanded the scope of activities we can do. We're no longer just receivers of translation requests, but rather drivers of change within the business."
Language Technologies Manager at a global fashion company
Key Insight
Adopting a Translation Management System is a great opportunity to evaluate your program's current status and find improvement opportunities. Having everyone involved in your localization program working together with aligned goals will help grow your content maturity level and considerably increase efficiency. Automate any task that does not need to be carried out manually and give your team back time, which they can use more productively to innovate and optimize existing processes.
2. Adaptable scalability, enabling hand-in-hand growth
Technological innovation has enhanced the capabilities of localization programs, not only in how far they can reach and in how short a time, but also in the skills of the people involved in it. Localization teams have become more adaptable to changing circumstances and been forced to acquire brand-new skills to harness all the new technological options available to them. However, this adaptability would be a considerable challenge if the technology is holding them back. For this reason a TMS needs to be able to grow as your needs do. According to TechNavio, the content marketing market will be growing at a forecasted rate of almost 16% year-over-year until 2026, which is why your requirements today will be different to those you will have in 6, 12 or 24 months. Having a technology solution that can adjust to that escalation in volume will be key if you want that growth to be just as quick and efficient and not affect your publication times or shoot up your costs. This is one of the many reasons why scalable localization technology has gone from being a delightful feature set to an industry-wide basic need.
A Translation Management System with optimal scalability should be able to:
Work at the same level of speed and efficiency regardless of the number of languages or file formats you wish to use
Translate an unlimited number of words at no extra cost
Be able to fully customize workflows and permissions to each language
Scalability also plays a huge role in an organization's strategy and future objectives. For example, if you plan on transitioning from translating 5 million words into 10 languages per year to 50 million words into 25 languages in the coming 12 months, having a technology that will enable you to adjust to this growth without multiplying the costs proportionally is a sign that your localization-technology maturity and, by extension, your content maturity level is high. The optimization of resources is scalability's biggest benefit, and being able to produce more output by using the same or fewer resources is a highly desirable characteristic. Whether it is to meet the increasing demand for content, execute your global expansion strategy or even make your organization more attractive for investors, having a scalable Translation Management System that grows with you will support your growth transitions seamlessly and optimize your costs and resources.
In the graph below, you can see how adding a scalable TMS enables organizations to not only accommodate an increase in output but also maintain it through time.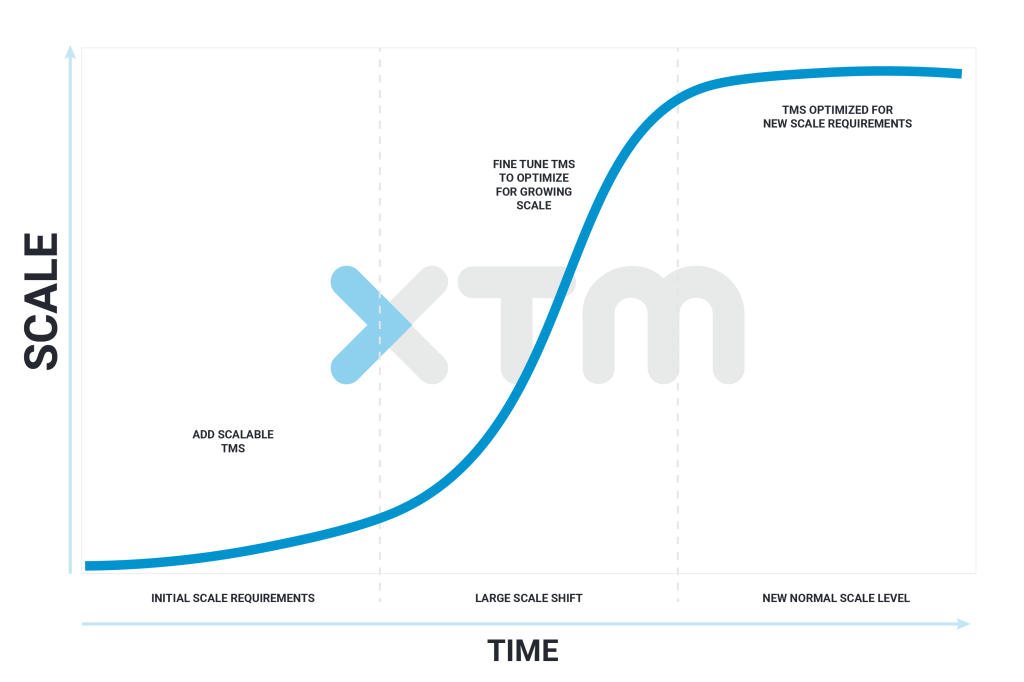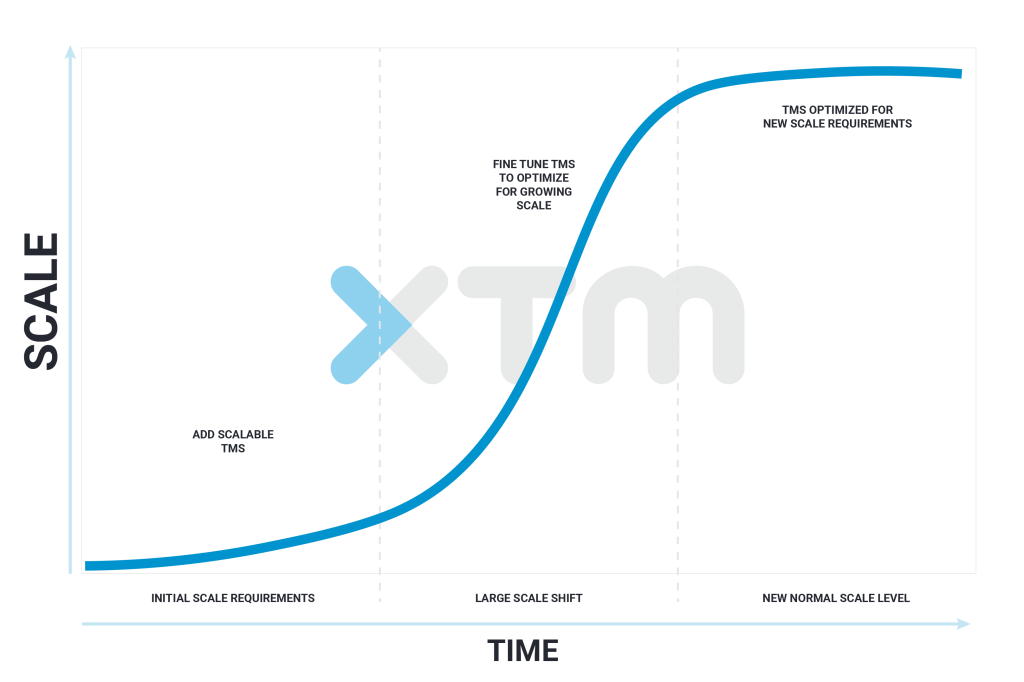 Key Insight
The Covid-19 pandemic has taught us how unpredictable the future can be and how much can change in an instant. Having your global content strategy supported by tools that can adjust to any changes, no matter how quickly they come, is a business advantage. A scalable Translation Management System gives you the confidence of knowing that you have a technology at your disposal that can adjust to sudden content growth or abrupt decreases in volume without compromising delivery speed or costs. Having that security of being able to seamlessly accommodate unforeseen changes is key to the success of your localization program.
3. The power of connectivity
One of the first features that you need to consider when choosing a Translation Management System is whether it has support to connect to systems where your content resides. Nowadays content resides in various systems including content-management systems (CMS), marketing-automation systems (MAP), design tools, source-code repositories, product information management systems (PIM), etc. A TMS with a seamless integration to the third-party system where you create and store your content will help your localization process be much more cost-efficient and effective. This can be either through direct connectivity using an off-the-shelf connector or through an open API enabling companies to build their own.
Technology stacks without connectivity features make localization processes more inefficient and have a negative impact on go-to-market timelines. For example, does this scenario sound familiar? Your marketing team exports content from your content system to an Excel sheet or Word document, which is then sent manually to the localization team. The localization team manages the translation and sends it back to the marketing team, who imports the translated file back into the system and makes any necessary adjustments before publishing it. If it does sound familiar, then you may have a decentralization problem. Decentralization creates different knowledge silos which directly affect the content's quality and consistency across different languages, ultimately resulting in damage to the brand's image. TMS connectivity can solve this issue by automating all of these manual tasks and allowing both the content-creation and localization teams to work together in real time, reducing the time-to-market and boosting the quality and consistency that were affected with the previous system.
XTM Xpert Iñaki Hernández-Lasa explains how transitioning to a TMS has become a no-brainer for enterprises wishing to improve their content-maturity level: "One of the biggest reasons to migrate to a TMS is that the localization team is able to work together with the marketing team. Having a connected TMS has made marketing and localization managers realize that they can't have silos in place, and that having everyone working together on connected platforms is what enables a cost-efficient and successful localization program".
Thanks to the connectors a translation management system offers, content-creation teams can oversee the translation process without ever leaving their content system's native environment. For example, content specialists using Adobe Experience Manager or Sitecore, for example, can send and receive translation automatically without leaving their platform making sure that it's always up to date; marketing teams can see what a translated email or collateral looks like directly in the user interface before sending it to their global audiences; and design-tool users no longer have to go through the tedious and laborious process of extracting content for translation from tools like Figma or InDesign – with a connector, the text is extracted seamlessly for translation and imported back into the tool in a single, connected workflow.
Key Insight
An efficient localization hub offers seamless connectivity to a wide range of third-party content systems, so ensuring that your Translation Management System of choice connects to your content system should be a priority. Cost-efficiency and a short time-to-market are key elements of a localization strategy, so having connectors will allow you to seamlessly automate processes that were previously carried out manually. This will not only save you time and money but also give you the power to reach your customers more quickly without compromising your brand image.
Want to learn more benefits of adopting a TMS? Check out Part 2 of this series to find out!